RMP India GmbH
The Expert for Sustainable Success and Impact
Individual as your fingerprint
A PERSONALITY TEST WITH A SCIENTIFIC BACKGROUND
The Reiss Motivation Profile® (RMP) is the first empirically developed and scientifically validated standardised assessment of an individual.
The tool was developed and published by Steven Reiss, an expert in the field of clinical psychology. His comprehensive and motivational research was conducted over many years, with thousands of test subjects. The 16 basic desires he identified are the needs and values that determine our existence, and the fulfilment of which make our lives meaningful. According to him, these desires have a base in our genetic makeup, but are also moulded by our experiences in childhood and adolescence, and thus, remain largely constant through our adult lives.
The RMP gives a complete picture of a person's motivation and basic desire structure. Unlike many other current personality tests, it is the only scientific test instrument to depict the complete motive and motivation structure of people. People are thus not typecast into "boxes" but depicted in their complex individuality. Once you know and understand what really drives you, and why you do things a particular way, it becomes possible for you to shape your life accordingly and, at some point, be able to say: "I did it my way."
HOW IT WORKS 
One Questionnaire | 16 Basic Motives | Sustainable Success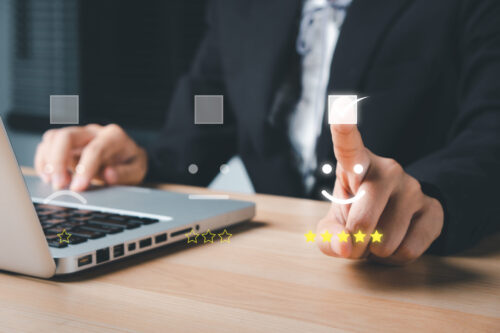 Step 1
Fill out the questionnaire. This could take between 15-30 minutes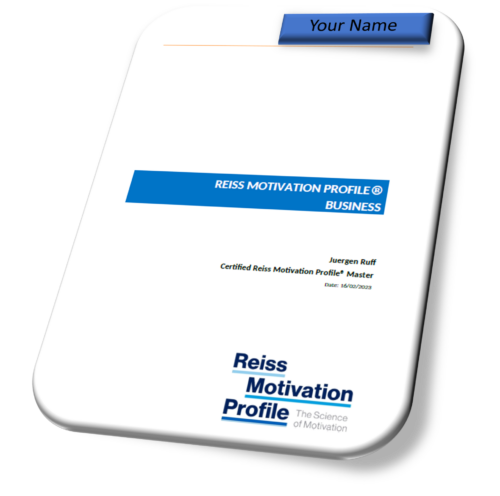 Step 2
The test is evaluated with a software program. You receive a detailed description and, beside a coloured graphic basic desire profile, an interpretation of your profile.
Step 3
The RMP is carried out and interpreted by a qualified coach, a Reiss Motivation Profile Master.
Fields of Application
How to …
… motivate my employees?
… strike a good balance between professional and private life?
… achive my goals better?
… bind employees to myself?
… get the best out of my employees?
… finish faster?
… satisfy my customers?
… lead my employees better?
… manage projects more efficient?
Fields of Application
How to …
… become even more efficient in sports?

… find the right employee?
… get harmony in my relationship?
… get clarity about my next career move?
… solve conflicts in a sustainable way?
… advice as coach more professionally?
… approach change?
… use different cultures profitably?
… create a healthy working environment?
WHAT ARE THE 16 BASIC DESIRES
The 16 basic desires determine our lives and give purpose and meaning to our existence. Steven Reiss assumed that at least 14 of the identified motives have a genetic determination. So, while most of our motives have an evolutionary origin, they are also shaped by culture, our beliefs and our individual experiences. What we wish for is largely determined by our genes, but how we fulfil our desires is mainly determined by our culture and our experiences.
While they apply to all people, their intensity and expression is different in every human being. A possible 3 million combinations of these intensities make each individual's profile absolutely unique; like one's fingerprints. When you understand your own motives, and those of others, it allows you to reduce conflict, accept yourself and others as they are, and to value and work with your differences.
Steven Reiss
Steven Reiss' vision was to make the Reiss Motivation Profile® accessible to all people around the world. As representatives of the researcher, we, at the Mauve Institut, also pursue this vision. We believe that the instrument makes DNA-like building blocks of identity visible and that it helps us to better accept and understand ourselves and others. To this end, we are constantly developing the areas of application for the Reiss Motivation Profile® as well as the evaluation options so that the instrument becomes more practical, quicker and easier to use, is fun and arouses curiosity as soon as it is filled in.
Born in New York in 1947, Steven Reiss was Emeritus Professor for Psychology and Psychiatry at Ohio State University (USA) and Director of the Nisonger Center for Mental Retardation. The author of numerous research papers and specialist books, he also received several awards for his work.
In Europe, he is primarily known as the creator of the Reiss Motivation Profile®; a diagnostic procedure in personality analysis that can be applied across a range of contexts like personal development, career coaching and elite sport. Thousands of people around the world have been able to work out what makes them tick and what their individual motivators are, thanks to the Reiss Motivation Profile®.
Steven Reiss focused on the deep fulfilment of a person's true needs, conflict-free interpersonal relationships and a better under- standing of people's individual differences throughout his life. He died on 28th October 2016, from illnesses associated with a long-term, chronic ailment.